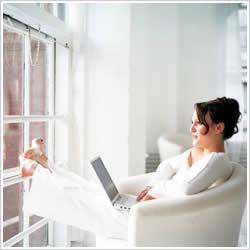 Due diligence might sound like an intimidating piece of legal jargon, but all it really means is "do your homework."
You've been the the process of securing a loan, researching locations and visiting houses until you found one that is right for you. It is an exciting time to be sure! However, as you would expect with any big investment, taking steps to ensure that investment are not only wise, but a vital part of the process. It's crucial not to let your excitement keep you from being thorough before closing the deal.
In purchasing a home, the due diligence involved means thoroughly investigating a property. If you are borrowing money from a lender to a broker, they will usually require a professional appraisal of the property to ensure it is worth at least what they are lending you for it.
Tall Country Realty also strongly recommends you hire a professional home inspector to conduct a thorough inspection of the property before closing. They check things most buyers would not notice in a walk-through. They may find a major issue the the foundation of the home that could cost $25,000 to repair or electrical wiring that will need to be replaced shortly. Once you have this information, you can choose to walk away or re-negotiate the contract. Ideally, they simply reassure you that your new home and investment is a solid one.
Some parts of due diligence are less known. For instance, you'll want to make sure there are no issues with the title. You will also want to make sure the homeowner association is stable and that there are no insurance issues. That vacant lot of flat grass may be appealing as a neighborhood kid hangout for baseball and kickball, but will it stay that way? It's wise to make sure about the zoning laws of the neighborhood. How would you feel if that grass field turned into a medical office? If one of the biggest selling points is the view from the back deck, look into making sure that land is protected and there are no construction plans that would not only obstruct the view but take it from grandiose to gross.
We also encourage home buyers to really consider the commute they would face daily. Drive to and from work from the neighborhood you are considering and the same time you normally would. What may seem completely do-able at 2 PM has the potential to change drastically at the 5 PM traffic spike.
All this helps to ensure a wise investment. That said, it is important to note, that any investment has unknown variables and nothing can be 100 percent. However, Tall Country Realty is here to help you through the process of due diligence and make sure all appropriate homework and research has been thoroughly conducted as well as to re-negotiate contracts as needed.
As much as we love to sell houses, what Tall Country Realty is really passionate about is finding you the home that is perfect for you. The extra time and effort is worth it, for us and for you.
Step 8: Closing and Possession