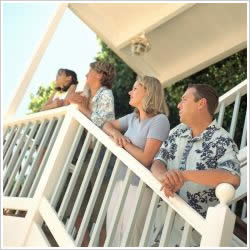 Once you've provided us with your Wish List, Tall Country Realty will begin utilizing our resources to provide you with current options of houses for sale that fall within your criteria. A home located in a sought after location at a good price point will usually not be on the market long, so we stay on top of the ever-changing market and make sure you are made aware of new listing that match your criteria quickly. At this point though, you should also be ready to act when you find the right home.
Step 3 will have narrowed down which neighborhoods you're interested in, your must have's, hoped fors and deal breakers. This allows us to begin showing you actual properties that fall within those parameters. Likely, we will visit several homes in one day. Going from one property to another can lead to confusion at the end of the day. We strongly suggest taking some pictures as well as keeping notes.
If you're comfortable making a chart, it can be a great tool to refer back to after you've looked at several properties. A simple chart that has columns for number of bedrooms, bathrooms, amenities, drawbacks and a space for general overall impressions will really help you to stay organized as you think back on the homes we've viewed.
Many homes may have some aspects you love and others you don't care for. It can be difficult to see past some things, but do try to remember that things such as wall color, furniture and it's placement, and even some landscaping are inexpensively changed. Do your best to envision the core of the house, it's floor plan, and it's potential with your furnishings and choices in landscaping and wall color. Adversely, a home that is staged to really suit your taste can seem more appealing while not actually meeting your wish list. Be sure to make an effort to see beyond the minor and easily changed esthetics and focus instead on the house itself.
A house may be defined as a shelter, but a home is where you live your life. It is where you raise your children, entertain your friends, and come to every day for relaxation. Depending on how much each of these things weigh on your daily life and decision-making process, you'll want to take the extra step to envision yourself in these situations in each house. Doing so will help you decipher the difference between a house and THE house for you.
Regardless of home charming a house may look, if it is not going to fit your lifestyle you will end up disappointed in the long run. For instance, if biking or hiking is something you do regularly and enjoy, a lovely home in the city probably isn't the right one for you. If you love to entertain friends and family, you will want to choose a home with a big yard, open floor plan, and plenty of parking. Maybe you really like everything else about a house, but you are an avid cook and it only offers a small, galley kitchen. Keep your lifestyle in mind when choosing a home.
Your agent at Tall Country Realty will do their very best to show you homes that match the needs and wants you've told us about, within your budget. We are also happy to point out aspects that could be easily changed and even aspects of a property that may bother you in the long run. In the end though, it is your decision as to which house you want to become your new home. A sometimes daunting, but always exciting adventure.
Step 5: Learn About The neighborhood